Stay connected to your baby at all times
Babysense Video Baby Monitors feature high quality baby monitoring technology to provide parents peace of mind and an excellent user experience.
The monitor enables you to maintain a safe, secure and private connection with your baby at all times. Babysense monitors are Safe from Hacking and are not WiFi enabled nor do they connect to the internet.
Our video monitors feature only enhanced encrypted technology, ensuring you're the only one watching and listening to your baby.
Hear your baby with crystal clear sound quality.
The high quality LCD screen allows you to observe your sleeping or playing infant day and night.
Features at a glance
Digital Zoom & Auto Infrared Night Vision
The Infrared Night Vision will automatically detect dim light, providing clear video even in dark rooms, so you will always know what your baby is doing.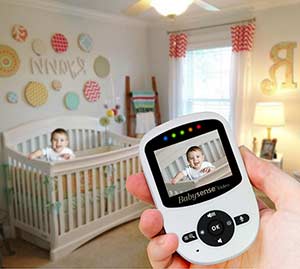 Portability with Long Range
The portable parent unit can move around with you, enabling you to hear, see or talk to your baby no matter where you are in the house
Two Way Talk Back Communication
Comfort your baby with the sound of your own voice by using the two-way talk back system
ECO Mode
The ECO mode is a sound activated power saving mode. Allows to control the sound activation level (Low, Medium or High)
Room Temperature Monitoring
Constantly monitors the temperature in your baby's room and alerts you when it is too hot or too cold
Lullabies 
Lull your baby to sleep with pre-programmed polyphonic lullabies. Operated remotely from the parent unit
What customers have to say
Perfect, works great. This is the perfect baby monitor for our needs. Worked great. No set up needed at all. Just plugged both sides in and it started working right away. I like the ability to both hear the baby and also use microphone to talk to her if we need. And it's small enough and light enough to use when we travel this summer. Great price for all the needs we have.
I wanted a good reliable baby monitor So far it's been working great! I use this right now mostly at night, and the night vision looks good and clear, same for the sound. We live in a 2 story house and I get good signal downstairs as well. I think that the value for the price is really great, and I'm very happy with this monitor.
Great value! I must say it was a pleasant surprise to get such a great deal. Out of the 3 monitors that I have previously bought this one was the less expensive one and it works great!!! I hanged it above my baby's crib which is on the second floor and it gives me peace of mind. Don't spend hundreds just get this one.
A great product! A very clear picture and sound A great product! A very clear picture and sound. Nice wide screen. Love the 2 way talk feature. Also has a temperature feature to see the temp of the nursery. If you have no shelf to place the camera on it can be mounted to the wall. Overall fabulous product! Highly recommend!
LOVE this monitor! I've tried so many baby monitors over the last few years and am very picky. This monitor is amazing, from it's long battery life to the really good microphones for sound, and I love that it still had the room temperature on the screen. I LOVE this monitor.
Great Product! The setup was easy, we found the features of this set very useful. We had tried another popular brand of monitor and this one far exceeds the other monitor in quality and functionality.
This monitor is the best one I have ever used Clearest picture ever, longest range of any monitor, it's just perfect! I love that it's rechargeable and can be wireless. There is a setting to have a lullaby play to the child which my son loves. And it's two way talking! BEST ONE OUT THERE FOR SURE!!
Buy this one! We love this baby monitor. Very good value. The video is quite clear and vivid. I love that it has night vision so you can still see the baby with the lights off. The small size is great for portability. Couldn't be happier with this choice!
Full list of features
2.4 Inch High Definition Color LCD

Secure Interference Free Connection

2.4GHz Digital Wireless Transmission

Two-Way Talk-Back Communication

ECO Mode Voice Activation

2x Digital Zoom

Lullabies

Alarm / Timer Setting

Digital Pan / Tilt

Auto Infrared Night Vision

Sound Activated LED Indicator

Fully Adjustable Brightness / Volume
Room Temperature Display

High / Low Temperature Alarm

Long Range Up to 300 meters (Open space)

Battery Level Indicator

Multi-Camera Expandability

Auto Scan View

Out Of Range Warning

Low Battery Warning

Li-ion Battery Intelligent Charging

Built-in Support Stand